VATICANO - SAN PIETRO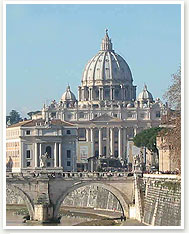 E' la maggiore delle basiliche papali di Roma, spesso descritta come la pi¨ grande chiesa del mondo e centro del cattolicesimo. Secondo la tradizione la basilica di San Pietro sorge sulla tomba dell'apostolo Pietro, crocifisso e giustiziato. La costruzione dell'attuale basilica di San Pietro f¨ iniziata il 18 Aprile 1506 sotto papa Giulio II e si concluse nel 1626, durante il pontificato di papa Urbano VIII, mentre la sistemazione della piazza antistante si concluse solo nel 1667. La cupola di San Pietro con i suoi 136 metri di altezza, i suoi 42 metri di diametro e i suoi 537 scalini Ŕ l'emblema della stessa basilica e uno dei simboli dell' intera cittÓ di Roma.
This is greatest of the papal basilicas in Rome and is often described as the largest church in the world and the center of Cattholicism. According to tradition ,St Peter's Basilica was erected on the tomb of the Apostle Peter,who was crucified and put to death around 60 AD.The construction of St Peter began on 18th April 1506 under Pope Julius II,and was completed in 1626 during the pontificate of Pope UrbanVIII.The constrution of St Peter's Square oppposite the basilica however,wasn't completed until 1667.The Dome of St Peter,with a height of 136 metres ,a diameter of 42 metres and 537 steps,is the emblem of the basilica and one of the symbols of the entire city of Rome.
Torna alla categoria "monumenti"

SITI SUGGERITI


FOCUS