COLOSSEO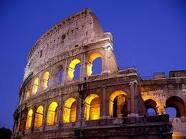 L'Anfiteatro Flavio, detto anche Colosseo, è il più famoso anfiteatro romano al mondo, nonchè il monumento più imponente della Roma antica che sia giunto fino a noi. Era in grado di contenere fino a 50.000 spettatori. L'Anfiteatro è stato identificato su un'area al limite orientale del foro romano. La sua costruzione fu iniziata da Vespasiano nel 72 d.C. e fu inaugurato da Tito nell'80 d.C. Ben presto l'edificio divenne simbolo della città, utilizzato per lo svago del popolo e fu teatro di combattimenti tra gladiatori.
Also known as the Flavio Amphitheatre, the Coliseum is the most famous Roman amphitheatre in the world, as well as the most striking monment of Ancient Rome still with us today. It had a capacity of up to 50.000 spectators. The amphitheatre was built on an area at the eastern end of the Roman Forum. Its construction was initiated by Vespasian in 72 AD, and was inaugurated by his son Titus in 80 AD, undergoing additional modifications during the reign of Domitian.
Torna alla categoria "monumenti"

SITI SUGGERITI


FOCUS