SAN GIOVANNI IN LATERANO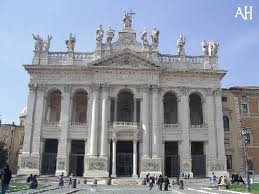 la "madre di tutte le chiese"
la Basilica di San Giovanni Ŕ la Cattedrale del Papa,la prima chiesa Cattolica del mondo e per questo la madre di tutte le chiese del mondo e di Roma.Si origin˛ da un regalo della famiglia dei Laterani e fu consacrata nel 324 dal Pontepice Massimo SilvestroI.Fu costruita da Costantino,il primoImperatore Cattolico.E' dedicata ai Santi Giovanni Battista e Giovanni Evangelista.Il Papa residettein San Giovanni per quasi mille anni,fino al 1304 quando i Papi si trasferirono ad Avignone.

The "mother church"
the archbasilica of St.John Lateran is the Cathedralof the Pope,the first Catholic church of Rome and the wold .It's origin by gift of the Laterani family.It was consacrated in the year 324 from the Supreme Pontiff,Silvester I.It was built by Constantine,the first Chatolic Empereur.Is dedicated to St.john ghe Evangelist and St.john Baptist.The ppe resided in St.john for nearly a ghousand years,from the time of Costantine until1304,when they went to live at Avignon.
Torna alla categoria "monumenti"

SITI SUGGERITI


FOCUS